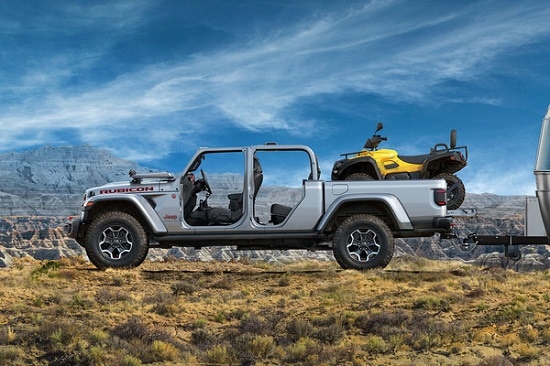 We've started taking orders for the 2020 Jeep Gladiator Pickup Truck. Please call us at 905-625-8801 or Text us at 289-326-1578 to order now and get delivery in March, 2019. All Colors, Specs, Prices, and Engine sizes are available to choose from for all Ontario Residents, including Brampton, Barrie, Oakville, Burlington. Cue the applause!
If you're a Jeep freak, you know this is cause for excitement in the extreme. In fact, it should even involve a cake, it's that big. Cake, party hats and streamers, big. It's been over 25 years since a pickup model has graced Jeep's much-vaunted fleet and we think this will be well-worth the wait. Debuting at the 2018
LA Auto Show
, the Gladiator boasted its class-leading towing and 4x4 payload status, blended with Jeep's head-turning trademark Wrangler look. For a rugged pickup it also showcases some pretty fine tech features. Depending on the trim you select, the fourth-generation Uconnect system offers the selection of a 5, 7 or 8.4-inch touch display and will also support Apple CarPlay and Android Auto. Yes, you read that right. And if that isn't enough to get you salivating, there are two USB ports and a USB-C port up front and two USBs that connect to the media centre, for your annoying back-seat drivers. A media centre that just might distract them from offering their baseless opinions on your driving skills, or telling that story about their great aunt Mildred who pulled a move like that and ended up with a ticket. Not to worry, soon you'll be leaving the city behind and heading out for some well-deserved off-roading, all by yourself! As well, a 115-volt AC outlet is available for three-pronged home electronics, like your electric razor, should you forget about your scruffy visage between that off-roading excursion and that wedding you have to go to. Optional upgrades include a subwoofer and portable wireless speaker located behind the rear seat. Well-placed LED lights brighten-up the storage space and the wireless speaker's docking station. If you chose the subwoofer and wireless speaker options, the left side of the cab wall also provides additional net storage. And why wouldn't you want the wireless speaker and subwoofer? Is there any reason your ride shouldn't be an envy-inducing music machine on wheels? We think not and we think you'll agree.
The new frame and wheelbase are 31 and 19.4 inches longer, respectively and respectfully, I have to say. The suspension offers-up a lateral and four longitudinal control arms, while the rear sits on Jeep's five-link coil suspension that translates to a nice, comfortable ride. Bouncing along on those backwood trails behind the cottage may be fun, but that doesn't necessarily mean you want that on the 400, do you? The Gladiator knows when to bounce and when to glide.
Powering this beast is a 3.6-liter Pentastar V6, putting out 285 HP and 260 pound-feet of torque. Standard on all trim levels is a six-speed manual transmission and four-wheel drive. If you're looking for something to allow you the headspace to dream about your next road-trip, an eight-speed automatic is optional, but recommended. There's something nice to be said about cruising along without having to think about shifting. While you're at it, dream up a new chunky trailer, because you'll have plenty of towing capacity at 7,650 pounds and a 4x4 payload of up to 1,600 pounds. If you dream really big, you might want to wait a little longer for the 3.0-liter turbocharged diesel with 260 galloping horses and a mighty 442 pound-feet of torque. This model is only available in the eight-speed format, but as we have already discussed, this can be a perk.
The Gladiator wouldn't be a Jeep without its impressive off-road offerings, like Dana 44 axles, electric front and rear-axle lockers and limited-slip and skid plates. The Rubicon model boosts you to 4.10 axles, a better suspension, disconnecting electronic sway bars, Fox shocks, protective cab, steel winch-ready-front and rear bumpers and 33-inch tires. It's also equipped with a forward-facing camera showing you anything in your way, less than two feet in front of the truck. This off-road brute also has 11.1 inches of ground clearance and can slog it through 30 inches of water. Even your significant other who turns a nose up at "car-talk" is going to be impressed by all that. But maybe listen to them for a few minutes, first, just in case. You, know, to warm them up.
On the back end is a 5 foot steel bed with integrated tie downs, a 115-volt three-prong plug and tonneau cover. If you select a spray-in bed liner, you'll also get under-rail bed lighting. The bed box sides are purposely low for easily accessible loading and unloading. And who wouldn't want that? Your kids now have no excuse, but to lend you a hand in hauling in that firewood. As well, the three-position tailgate allows you to carry 20 sheets of 4x8 plywood or drywall, flat. That's pretty darn convenient, wouldn't you say? You'll certainly look good on the worksite.
Looking at the esthetics of
the Gladiator
, we see the familiar Wrangler design. The circular headlights, seven-slot grille and square taillights are a dead give-away. For those who love the open air, the truck also has Wrangler's removable aluminum doors, soft or hardtops and fold-down windshield. Those may not be the perks you need on the 401 unless, of course, you are sitting in cottage country traffic with Little Billy who just showed-off to all his friends by downing more hot sauce than anyone else. Let's face it, sometimes rolling a window down is not enough.
Inside the cab we find a horizontal dash with trapezoidal end, plenty of storage nooks, rubber-coated touch points and metal-plated trim. The slightly more spendy Overland models have accent-stitched, wrap-around instrument panels. Rear of the cab seats can be folded down, giving you more storage and secure storage areas are located behind the seat backs. As for safety features, this mid-sized pickup offers blind-spot monitoring, rear cross traffic alert, adaptive cruise control, and a backup camera with dynamic grid lines.
Trims offered are Sport, Sport S, Overland and Rubicon and they've even thrown in a variant stuffed chock-full of fun Mopar accessories.
Where are we located?