Back
Posted on September 5, 2019
2020 Dodge Ram 1500 Ecodiesel For Sale | Toronto, Mississauga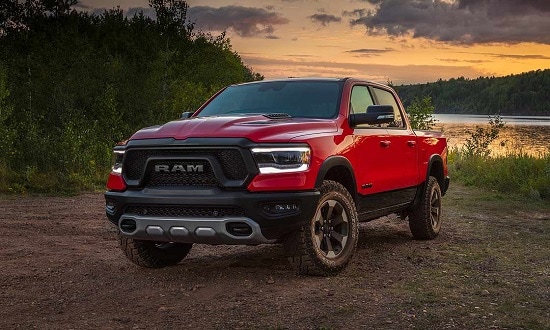 There's a new kid on the block in the light-duty diesel engine segment. The 2020 RAM 1500 EcoDiesel is gaining a lot of market praise for its feats of engineering in the significantly upgraded engine. This truck is the strongest and quietest 3.0 EcoDiesel on the road, Brampton, Barrie and Oakville. Let's cut to the chase and give you the top five upgrades:
1.  Redesigned Turbocharger
The water-cooled, variable vane Garrett design puts out more consistent power over a longer period of time
2.  Lighter/Stronger Block
The new EcoDiesel still uses compacted graphite iron for the block, but engineers worked very hard to remove 15 lbs of unnecessary weight and thickness, resulting in a smaller-sized unit that puts out less noise
3.  High/Low Pressure EGR System
This clever design takes 20 per cent less exhaust gases from the turbo. Other exhaust gases are taken further along, though the particulate filter which returns cleaner and cooler gases back into the system. This provides lower emissions and efficiency in cooling.
4.  Faster Aluminum Injectors
The injectors, along with aluminum piston heads and a newly designed combustion chamber deliver a better and more complete burn resulting in more low-end power and better fuel mileage.
5.  Noise Reduction
Everything going into the new 2020 RAM 1500 EcoDiesel is designed to quieten your ride. You won't find more sound deadening foam and plastic under any other hood you look under. Nearly every internal piece is coated or made with sound reducing materials.
If quiet and eco-friendly are your thing, the 2020 RAM 1500 EcoDiesel is your new ride. Give us a call at Ontario Chrysler and we'll set-up a test drive for you. 1-844-612-6197.