Back
Posted on September 19, 2019
2020 Jeep Wrangler Diesel for Sale | Toronto, Mississauga, Brampton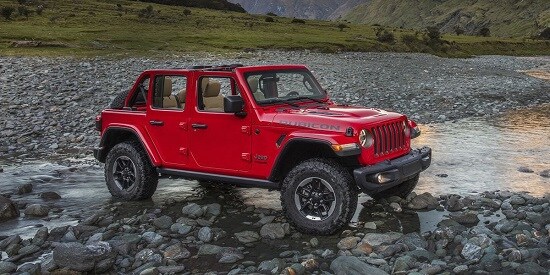 It seems appropriate that the sensible 3.0L turbodiesel V6 engine should only be mated with the practical four-door 2020 Wrangler Unlimited. Sorry to disappoint two-door enthusiasts, but the EcoDiesel engine is very picky about where it takes up residence. It sides with your great aunt Ethel who has to vault her 88-year-old butt into the rear passenger seat when you take her and all her friends to church on Sunday. Let's be reasonable, Barrie and Oakville.
At least you can rest assured that while you may not have a choice on door numbers, you do have a choice on which Wrangler trim you want. They're all up for grabs. Weigh your options now.
The new EcoDiesel engine is going to push out 260 HP, with a chunky 442 lb-ft of torque which is comparable to the 2020 Ram 1500 EcoDiesel. Huzzah!
I bet you're wondering how this compares to Wrangler's gas-powered engines. Well, you've come to the right place. The 2.0L turbocharged inline-four pumps out 270 HP and 295 lb-ft of torque. The 3.6L naturally aspirated V6 pushes 285 HP and 260 lb-ft. The diesel Wrangler has an 8-speed automatic transmission with start/stop and all-wheel drive.
Expectations are that fuel efficiency will do considerably better than the gas-powered Wrangler projected at almost 13.5L per 100 KMs. Your great aunt Ethel will also appreciate you for your support for the planet we live on. Your great aunt Ethel is good that way.
Expect to see the diesel 2020 Wrangler Unlimited on showroom floors as of the end of the year.
Where's the best dealership to buy a Jeep? The best dealership in Toronto, Mississauga, Brampton, Barrie and Oakville is Ontario Chrysler.