New Jeep Wrangler Sahara High Altitude for Sale | Toronto, Mississauga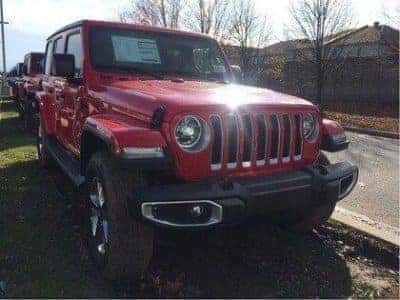 High On Life
So many Wranglers so little time. This is the joy of Jeep Wrangler fans. Across the board adventurists have relied on this historically powerful, capable pick up truck to see them through many miles as well as many adventures. The question is how do you choose? It is an enjoyable dilemma. Now the conundrum continues as Jeep Wrangler has announced a new wild card for the mix: the new Sahara Altitude cosmetic package for the Jeep Wrangler Unlimited Sahara  So when strolling into your local Chrysler dealerships in Toronto, Oakville, Mississauga, Burlington, Barrie and Brampton you want to be fully aware of all the choices before you.
To pick the vehicle that is right for you and your specific on road or off road travels lets look at the variety of options available. The  Jeep Wrangler Unlimited Sahara has enjoyed the cool, laid back approach to a Wrangler meant for relaxed road trips and highway sojourns. The Jeep Wrangler Rubicon on the other hand is built to navigate an off road paradise, climbing mountains, bashing rocks and generally having a jolly good time owning the landscape.   However as more and more drivers catch the Wrangler craze there is a new option that is not only more luxurious but also promises to carry us to some uncharted waters for the Wrangler brand.
Last year the Sahara Altitude cosmetic package was created. This cutting edge class includes numerous gloss black trim pieces. For example the black 18-inch wheels and fuel filler door as well as black leather interior and gloss-black gauge bezels. However this year is seeing additional improvements for the brand in this edition, in terms of its equipment. The Unlimited High Altitude Package was quietly presented at the Chicago Motor Show. Mopar Insiders have given us the down low on the extra features beginning with Sahara Unlimited and into the unknown.
A portion of these available options already deck out the Sahara Altitude, which includes a body-coloured hardtop and fender flares. High Altitude has continued where the Sahara left off with body-coloured front and rear bumpers, body-coloured door handles and side mirrors, and a body-coloured tailgate handle as opposed to the black units. This may sound like it could look a bit garish on the High Altitude when so much of the surface is painted in any of the bright, traditional Jeep Wrangler palettes.
To be specific we have seen Firecracker Red, Billet Silver Metallic, Hellayella, Ocean Blue Metallic, Black, Granite Crystal Metallic, Mojito and Bright White. These loud and proud colours have become something of a trademark for the Jeep Wranglers given their also loud and proud position in the automotive industry as a rugged pick up. To counter this loud traditional colouring Jeep has developed different colours for the High Altitude, six to be exact in Billet Silver, Black, Bright White, Granite Crystal and Ocean Blue, with Snazzberry arriving with late availability. Honestly if any pick up could pull off a colour called Snazzberry it is defiantly the Jeep Wrangler brand.
The Sahara Altitude is of course available in Firecracker Red, however they made the savvy decision to keep the High Altitude palette muted and let the specs speak for them self. This new package includes LED lighting, side steps, and a matte black Trail Rated badge, just like so many of the proud Wranglers before it. The twist comes in with the Wrangler on 20-inch gloss black wheels from the factory. These amazing rollers are hung on axles with a slightly wider track and a rear Dana 44 with a revised final gear ratio.
That covers the exterior attributes the  Jeep Wrangler Sahara High Altitude but lets take a peek inside to see what new surprises await us. Inside this luxurious ride you can be enveloped in an interior of black or Steel Grey. The Steel Grey however, is only an option for late availability. In addition to this classic colouring the accents have been formed out of Nappa leather, wrapping the steering wheel with a quilted pattern highlighted by stitching in a rich caramel. I don't know about you but I could most defiantly see the benefits of taking on the outback by storm and doing it in such comfort and style. In addition to this there are two special attributes that have not shown up on a Jeep before, want to know what they are? One is a leather-wrapped instrument panel mid-bolsters with additional caramel thread, but that's not all.
Modern trucks now are not only increasingly luxurious but also much more technologically advanced. And this means a 8.4-inch Uconnect with Premium Audio as well as the Safety Group with ParkSense and blind-spot detection, and remote keyless entry, which means a little more of a sly start to your driving experience. This means not only do you have state of the art safety features, connections to applicable practical applications like traffic updates. It also means the new connections with the en vogue media applications. This is after all why they have dubbed it a system that provides you with infotainment, to get you the information you need and the media that make it enjoyable along the way.
To conclude there seems to be a Jeep Wrangler for everyone. You have only to peruse your options to see the wealth of possibilities. Now with the Sahara Altitude cosmetic package you do not have to abandon the rugged elements of the off road vehicle that Jeep Wrangler has made famous. With the new luxurious elements available you can have those highly sought after technical capabilities as well as the sheen and shine of modern comforts. It makes the road ahead not only an exciting prospect, but a comfortable one at that. So dream of adventures to come and the next time you envision yourself in a Jeep Wrangler, go ahead and imagine all the perks that come with one very high class and classy ride. So look forward to your first foray into the stylish unknown of the Jeep Wrangler brand and don't forget to make the road behind eat your dust as you blast up the mountain in style.