New Jeep Wrangler Electric 4xe | Toronto, Mississauga, Brampton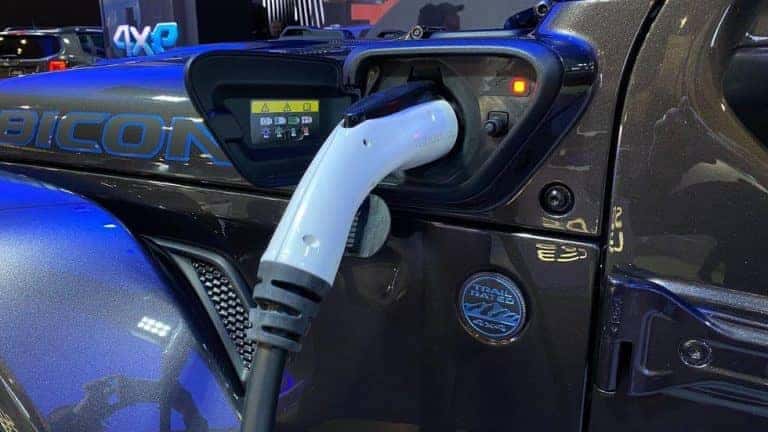 It's here! It's in Stock! The wait is over for the New Jeep Wrangler 4xe, and Ontario Chrysler is proud to be one of the first Jeep dealerships in Canada to have received the Jeep Wrangler 4xe to our customers. Ontario Chrysler, exclusively, have two New Jeep Wrangler Rubicon 4xe and one Sahara 4xe in our inventory. With limited stock across Canada, these are sure to go fast.
Call us at 905-625-8801 to reserve yours before it's too late.
Not all dealerships in Canada will have the Jeep Wrangler 4xe in their possession that soon. Ontario Chrysler is your best bet for getting the stronger, quicker, and far-reaching Jeep Wrangler 4xe in your hands. Make sure to get in touch to claim yours or build your dream  Jeep Wrangler today.
Why We Love The New Jeep Wrangler 4xe
The Jeep Wrangler 4Xe is an exciting new addition to the Jeep lineup. With a hybrid electric engine, it holds the ability to run up to 40kms on electricity alone. Not only is this Jeep friendly to the environment, but its electric engine is friendly on your wallet too.
Even more exciting than its eco-consciousness is that the Jeep Wrangler 4xe is a powerhouse. This Jeep was made to be fun to drive both on and off roads. With a fully waterproof battery, you can push your New Jeep Wrangler 4xe to its limits taking it anywhere you want to go. The Jeep Wrangler 4xe boasts a 375 HP engine that is more powerful than a diesel Jeep Wrangler. You will not have to make any compromises when you choose to make a Jeep Wrangler 4xe yours.
The New Jeep Wrangler 4xe will come in three trim options to suit your style and performance needs. Choose from the Sahara or Rubicon to ensure you get everything you desire. There are no compromises to be made when it comes to the New Jeep Wrangler 4xe. Whether you are new to the Jeep brand or are a diehard fan, we know you will love the performance, power and innovation that the Jeep Wrangler 4xe brings.
Can I Trade My Current Vehicle?
If you are ready to get yourself into a new Jeep Wrangler 4xes', trading your current vehicle can be a great option. We would be pleased to discuss the value of your current vehicle and evaluate its trade value.
Use our Trade-in form today to get an appraisal very fast from our used car manager.