2022 Jeep Wrangler Rubicon 392 for Sale | Toronto, Brampton, Mississauga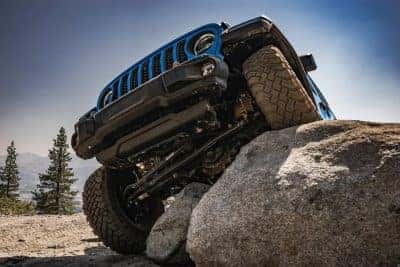 2022 marks the monumental achievement of 80 years of the Jeep brand. This exciting milestone brings many exciting returns and additions to the Jeep lineup including the 80th Anniversary Edition Jeep Wrangler and the Jeep Wrangler Islander. Though these additions are exciting, you will also want to check out the powerful new addition of a V8 Jeep Wrangler to the lineup.
The new 2022 Jeep Wrangler Rubicon 392 is an exciting new addition to the 2022 Jeep lineup. With a 6.4-litre V8 engine, this Jeep boasts 470-horsepower making it the most powerful and quickest Jeep available. Jeep enthusiasts have been known to add their own aftermarket V8 engines to their Jeep's. Jeep has listened and made this desirable new addition available for those who crave more power from their Jeeps. The Jeep Wrangler Rubicon 392 is perfect for the Jeep fan that loves to push their Jeep to its limits.
What Other Jeep Models Should I Consider?
Another exciting new addition to the 2021 Jeep lineup is the Jeep Wrangler 4XE. This stand out new Jeep is the first electric Jeep to hit the market. Don't be fooled by "electric" the Jeep Wrangler 4XE is incredibly powerful. Its waterproof battery means it is ideal for Jeep lovers who love to off-road, while always keeping eco-conscious.
Is the Jeep Wrangler Rubicon 392 Good for Off-roading?
The Jeep Wrangler Rubicon 392 is powerful which means it's going to meet your performance needs wherever you take it. But you should also note that the larger engine in the Rubicon 392 sits two inches higher off the ground than its base model. This makes it even more ideal for the Jeep lover who craves off-roading. The 2022 Jeep Wrangler Rubicon 392 makes a great off-roading Jeep and is a top choice for any Jeep enthusiast.
Where Can I Buy a 2022 Jeep Wrangler Rubicon 392?
If you are looking for a 2022 Jeep Wrangler Rubicon 392 for sale in Toronto, Mississauga or Brampton, Ontario Chrysler is your first choice new Jeep dealership. Not only do we stock the 2022 Jeep Wrangler Rubicon 392, but we also carry a wide selection of new Jeep Wranglers for sale. Come test drive a new Jeep today and discover the perfect fit for you. Don't forget that we offer low-interest rate financing on new Jeeps. Let a member of our expert sales team help you find your perfect Jeep today.