Back
Posted on July 1, 2019
2021 Ram 1500 Rebel TRX Hellcat Truck for Sale in 2020 | Toronto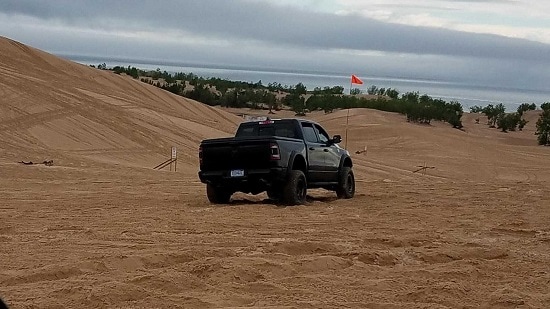 If you get up before dawn, dress completely in sand-coloured camo and creep into the Siler Lake Sand Dunes in Michigan, you may be lucky enough to witness an annual event. The seasonal sand run of the Duck-Billed Piper you ask? No…even more exciting, Brampton, Barrie, Oakville, and Mississauga! It's where RAM likes to test some of its vehicles in development. Spies were on hand for the auspicious event where the 2021 RAM 1500 Rebel TRX was put through its paces.
This version of the RAM 1500 reportedly boasts the 6.2 L supercharged Hellcat V8. While the body was blacked out, as RAM does for its vehicles in development, there were a few obvious items exposed—like fender extensions with exposed fasteners and dual exhaust. The test model sported rugged looking all-terrain tires with bead-lock style.
The 707 HP Hellcat engine is mated with a 10-speed automatic transmission. There are reportedly ARB Air Lockers at both axles. The new Rebel also showcases dual Bilstein shocks, upgraded brakes and its ride height is quite high. By all accounts the new RAM looked very capable off-road.
Rumour has it that one of RAM's 40 test mules also has the 840 HP Demon engine under the hood. Now wouldn't that be something to write home to Mom about?
If you're looking for something a little more fuel efficient and economical, a Rebel TR with a naturally aspirated 7.0 L V8, cranking out 520 HP is also on its way.
The exact timing of all these new trucks is up for discussion, but consensus says they should be at your dealership in 2021.
Where can I service my Ram 1500 truck in Toronto or Mississauga? 
Ontario Chrysler located on 5280 Dixie Road, Mississauga, services and repairs all trim levels of the Ram 1500 truck. Call us at 905-625-8095 to book an appointment or go to www.ontariochrysler.ca to book your appointment online.
What is the Difference between Leasing and Financing?  
When choosing between leasing and financing, there are many similarities as well as a great many differences. When you finance a vehicle all of the delivery charges, fees and taxes are included with the entire cost of the vehicle, and this cost is spread across the number of months you want to pay for it. Usually when a payment term is longer, the payments are smaller. A question many drivers ask is how long your payments should be stretched out, if you are planning to pay for a new car through financing.


When you lease a vehicle on the other hand, the term is usually shorter, often two or three years. The leasing company will determine the value of the vehicle at the end of your leasing term, taking into consideration the mileage, the condition, equipment, all of which is known as 'residual value'. The difference between the complete price of sale and the residual value predicted is the basis upon which your monthly payments are calculated. Since you will typically borrow less money to lease than to finance a vehicle, the monthly payments for leasing are a lot lower.
Many Toronto drivers wonder whether financing or leasing is the right option for them. Not very many people can purchase a new vehicle with cash, and taking out a car loan to buy a new car, truck or SUV can often seem like the only option. You also have to be responsible to someone else other than yourself to pay back a loan.