2022 Jeep Gladiator Gobi for Sale in Toronto, Mississauga, Brampton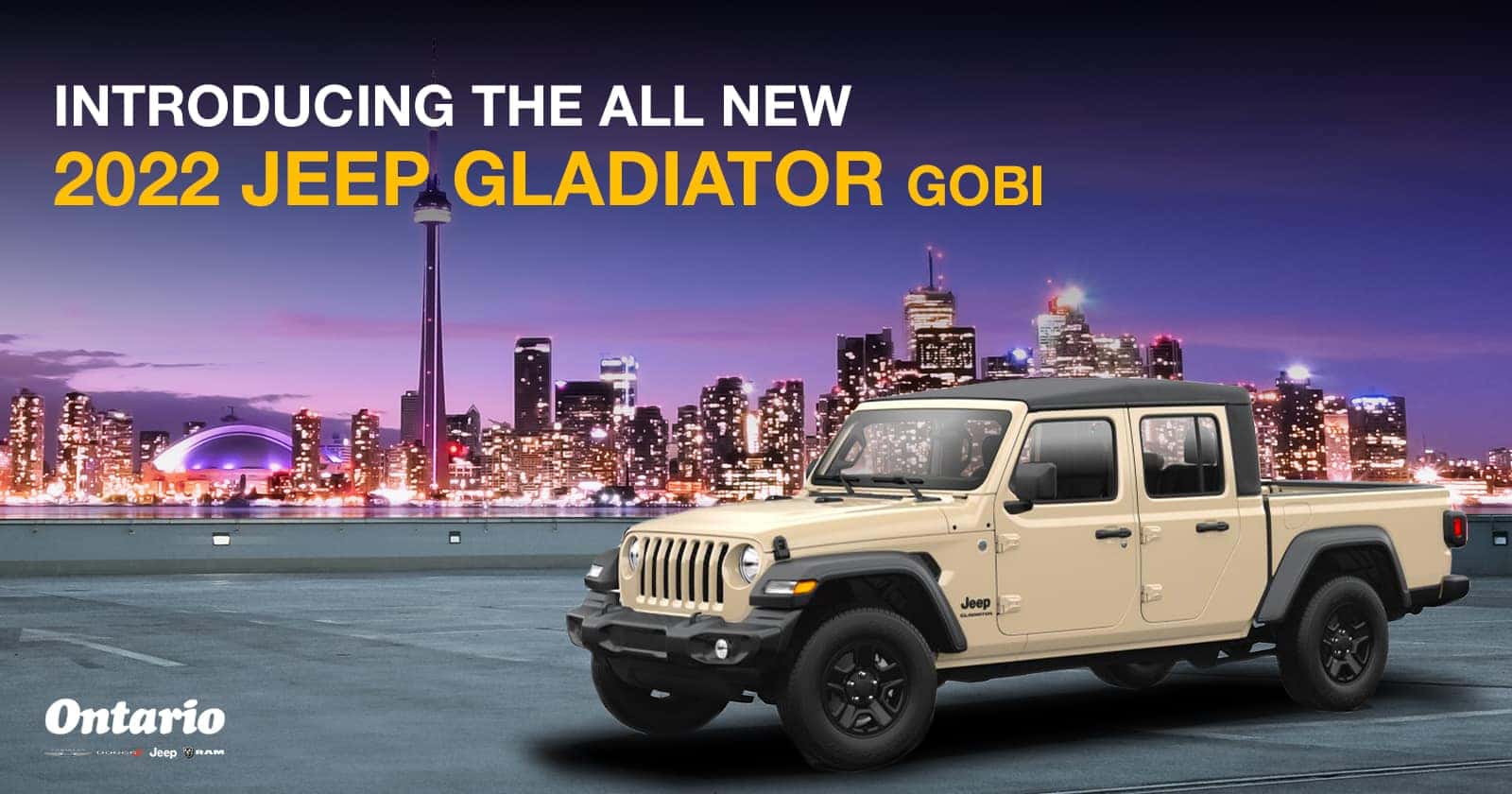 The Jeep Gladiator is designed to be an incredibly powerful, high-performing truck that takes you where adventure calls. Paired with its district and eye-catching style, there is nothing you won't love about this fun-to-drive, adventure-oriented truck. Though a Jeep Gladiator in any colour stands out in a crowd, you won't want to miss the exciting, limited-edition colour available for ordering now, Gobi. You need to get your hands on this exclusive colour, and the team to help you find it are the experts at Ontario Chrysler.
Ontario Chrysler is your top choice when looking for a 2022 Jeep Gladiator for sale Toronto, Mississauga, and Brampton-wide. We have access to the most exclusive, limited-edition inventory and are here to make your Jeep dreams come true. Get ready to take off-roading to the next level and find your 2022 Jeep Gladiator for sale at Ontario Chrysler, the Jeep dealer Mississauga residents depend on.
What Jeep Gladiator Trims is Limited Edition Colour Gobi Available In?
The 2022 Jeep Gladiator in Gobi brings an exciting and eye-catching looking to your new Jeep truck. With a desert-inspired look and feel, the Jeep Gladiator is ready for summer, sand, and all the adventures you could of. You're going to love the inspired look paired with incredible performance, this Jeep was made for you.
Find the Gobi colour option in the following 2022 Jeep Gladiator models.
What Are the Best Features of the 2022 Jeep Gladiator?
The 2022 Jeep Gladiator is an exclusive and sought-after truck known for its off-road capabilities and versatility. It's not for the average truck lover, it's something more. Look forward to the following stand-out features in your Jeep Gladiator Gobi.
Incredible 4×4 capabilities
Removable doors
Folding windshield
Best in class V6 towing
What Top Options are Available for the 2022 Jeep Gladiator Gobi?
Every Jeep lover has their own preference for the top style of their Jeep. The Jeep Gladiator stays true to the Jeep identity you love and offers soft top, black hard top, and body colour hard top options to ensure your Jeep is exactly the way you like it.
How to Finance a Jeep Gladiator in Toronto
Don't wait it out, be one of the first to have this exciting, limited edition Gobi colour for the 2022 Jeep Gladiator. Contact a member of our expert sales team to get yours or get started by applying for Jeep Gladiator financing online.