2022 Jeep Grand Wagoneer for sale | Toronto, Mississauga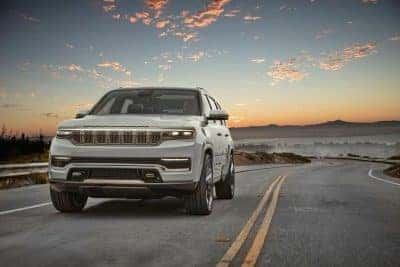 It's time to get ready for a little bit of nostalgia and a whole lot of style. Ontario Chrysler is thrilled to announce the return of the Jeep Grand Wagoneer to the Jeep lineup in 2022. Though you still have a little while left to wait, be ready to purchase your 2022 Jeep Grand Wagoneer by getting in touch with a member of our sales team today and don't forget to check on our new Jeeps for sale. Brampton, Oakville and Burlington residents – get ready for your chance to be one of the first owners of the 2022 Jeep Grand Wagoneer today.
Why We Love The 2022 Jeep Grand Wagoneer
The Jeep Grand Wagoneer has been missing from the Jeep lineup since 1991 and its return has been much anticipated by those who loved their Jeep Grand Wagoneer's in the past. The Jeep Grand Wagoneer is much loved for its wood-panelled, iconic look. It was rugged and cool and without a doubt, a product of its time. But if wood panelling isn't your idea of a good time in 2020, don't worry, the new 2022 Jeep Grand Wagoneer is redesigned with luxury in mind while looking modern and stylish.
The 2022 Jeep Grand Wagoneer is expected to have an abundance of options through its various trim levels. Most notably it will be perfect for families or those who need more passenger space as it is a full size, three-row SUV. A plug-in hybrid option is another feature to love in the 2022 Jeep Grand Wagoneer. If you love a rugged and tough vehicle while still keeping luxury and your carbon footprint in mind, this is the Jeep for you. Though not all details on trim levels and features of the 2022 Jeep Grand Wagoneer have been released, you should also expect to see gasoline and diesel powertrains.
The 2022 Jeep Grand Wagoneer has been reinvented to bring back memories of the classic look that you already love, while looking modern and having all the features you expect in a luxury SUV.
How to Get Yours:
Please call us at 905-625-8801 and book a test drive.
Ontario Chrysler will be the first Jeep Dealership in Canada to receive these vehicles including first access to exclusive limited editions. Reserve your 2022 Jeep Wagoneer or Grand Wagoneer with Ontario Chrysler today to be among the first to drive these vehicles in Canada.
We hope you are just as excited as we are about the 2022 Jeep Grand Wagoneer. Don't miss the release of the 2021 Dodge Durango SRT Hellcat. It's an exciting new addition to the Dodge lineup and shouldn't be missed.