2022 Ram 1500 RED For Sale in Toronto, Mississauga, Brampton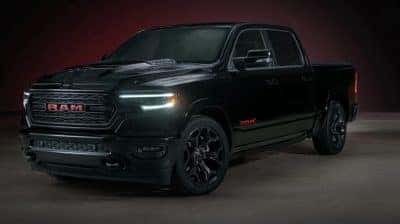 You already love the Ram 1500, and now in 2022, you can make your purchase of a new Ram truck even more exciting and meaningful. Ontario Chrysler is proud to announce that the Ram, Jeep® and FIAT® brands have made a commitment of $4 M to the Global Fund to help combat health emergencies with (RED). When you purchase a 2022 Ram 1500 Limited (RAM)RED Edition Truck you support this commitment and give back to your global community.
Not every Ram dealership will have access to these exciting, limited Ram 1500s'. Ontario Chrysler is the Ram dealership Toronto, Mississauga and Brampton residents depend on when they want the most exclusive and desirable models. We have the trucks you have been looking for. Contact us today and let us ensure you get the truck you are looking for and be one of the first in Canada to get exclusive and limited models.
Special Features in the 2022 Ram 1500 (RAM)RED ?
Exclusive to the 2022 Ram 1500 Limited (RAM)RED are exciting visuals that allow you to stand out and show that you are someone who cares to give back. Look forward to the following exterior and interior additions that highlight your (RED) Ram truck.
Exclusive red RAM grille
Exclusive (RAM)RED door badging
Exclusive (RAM)RED badge on the interior console
The 2022 (RAM)RED looks sleek and desirable with its unique styling that stands out beautifully against its blacked-out colour. We know you are going to love everything about your new 2022 Ram 1500 Limited (RAM)RED Edition. Be sure to get yours by reserving your truck with one of the experts on our sales team.
What Engine Options are Available for the 2022 Ram 1500 (RAM)RED ?
The 2022 (RAM)RED consists of two engine options. Choose from the 5.7-litre Hemi V8 or the 3.0-litre EcoDiesel six-cylinder engine. Whichever you choose, you're going to love the power and performance brought to you by Ram.
What Initiatives for (RED) Support?
(RED) was founded by Bono and Bobby Shriver to combat the AIDS pandemic. Support of the (RED) goes directly to public health systems and offers support to life-saving programs in areas of the world that are most harshly impacted by the AIDS pandemic. Additionally, (RED) funds go towards supporting a variety of other public health initiatives including health threats such as COVID-19. Your purchase of a 2022 (RAM)RED 1500 allows (RED) to further its positive impact on the world.