2022 Ram 3500 Trucks for Sale | Toronto, Mississauga, Brampton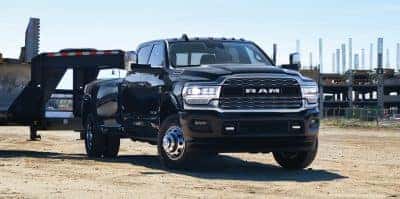 The longest-lasting, hardest-working heavy-duty truck of 2022 that you've been waiting for is ready to make its way to you. If you've been looking for a 2022 Ram 3500 for sale Toronto, Mississauga, or Brampton wide, Ontario Chrysler will soon be the place to get your hands on one. We are here to help you become one of the first to get behind the wheel of this seriously powerful, high-performance truck that pushes performance to its limits.
We will be receiving our inventory of 2022 Ram 3500 trucks soon and we want to make sure you find exactly what you are looking for within our inventory. Selection of trucks will be on a first-come, first-serve basis. Be sure to get on our waitlist to be the first to know, first to select and first to reserve your 2022 Ram 3500. Don't miss your chance to be one of the first to have one, call a member of our expert sales team today to ensure you are on the list and ready to get behind the wheel of your exceptional 2022 Ram 3500 for sale in Toronto.
What is the 2022 Ram 3500s' Capabilities?
The 2022 Ram 3500 is incredibly powerful and made to perform even under the toughest of jobs. When you choose the available best-in-class diesel you can look forward to an astounding 37,090 lb of towing and up to 1,075 lb of torque. There is nothing quite like a Ram 3500.
Is The Ram Comfortable Inside?
The 2022 Ram 3500 is a hard-working truck, but no comfort is sacrificed for utility. You can expect spacious, comfortable, and stylish interiors in your Ram 3500 no matter which trim you choose. When looking for a 2022 Ram 3500 for sale, Ontario Chrysler will have the most selection when it comes to trim and colour options.
How to Finance a 2022 Ram 3500 in Toronto
You need to get yourself in a new 2022 Ram 3500. What you need even more, is a financing rate that works for you. We are pleased to provide our customers with a variety of financing solutions to ensure you get a rate that suits your needs. Contact a member of our sales team today to learn more about Ram financing or apply for 2022 Ram 3500 financing online.