2023 Dodge Charger Super Bee for sale in Toronto, Mississauga, Brampton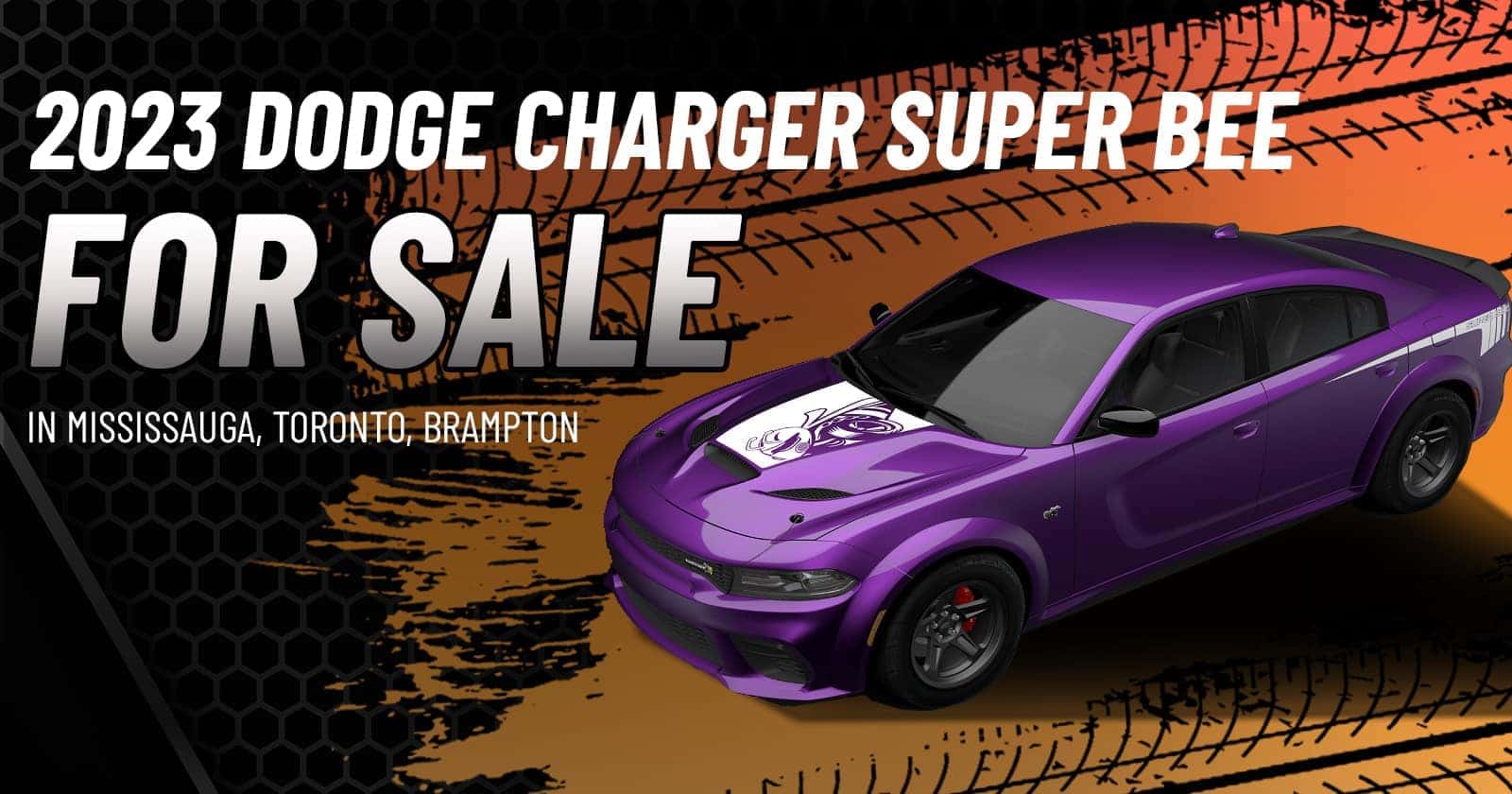 Our customers have been asking, is the Dodge Challenger being discontinued? Though 2023 will see the Dodge Challenger discontinued as well as the Dodge Charger discontinued, there is still something great to look forward to. To celebrate the legacy of the Dodge Charger and Dodge Challenger, special edition 2023 models will be making their way to the Canadian market. Newly announced, the 2023 Dodge Charger Super Bee is just one of the incredible special editions coming to Dodge dealerships in 2023.
The 2023 Dodge Charger Super Bee is just one of the 7 special edition models that you can look forward to seeing in 2023. The supply of these vehicles will be extremely limited, and not all dealerships will have access to them. For your best chance to secure yours be sure to get on the waitlist at Ontario Chrysler by speaking with Dave at 905-625-8801.
Why You'll Love the 2023 Dodge Charger Super Bee
The 2023 Dodge Charger Super Bee will be the highest performance of this sough-after model ever produced. Only 1,000 will be produced, making it one of the most exclusive vehicles available within the Dodge lineup. Performance features of this incredible muscle car will include adaptive damping suspension with Drag Mode, an SRT hood with functional scoop, dual heat extractors and SRT black exhaust tips. Exclusive graphics and Special Super Bee badging make this Charger the one to have, and you won't want to miss your chance.
How to Buy a Special Edition 2023 Dodge Charger or 2023 Dodge Challenger
As the Dodge Challenger and Dodge Charger are being discontinued in 2023, now is the time to act if you want to be one of the last to own one of these iconic and much-loved vehicles. Your best bet in finding a 2023 Dodge Charger for sale in Toronto will be to come to the experts at Ontario Chrysler. We will have access to extremely limited quantities of these incredible vehicles.
Contact our sales team today to get on the waiting list to be notified when special edition 2023 Dodge Chargers will be arriving. We cannot guarantee availability and know that our inventory of these vehicles will move quickly. Learn more about how you can get a chance to purchase one by speaking with a member of our team.
How to Finance Your New Dodge Charger for Sale in Toronto
Get ready to find your 2023 Dodge Charger for sale at Ontario Chrysler by connecting with a member of our sales team today. While you're on our waitlist, be sure to apply for Dodge Charger financing online to streamline the process and make securing one of these exclusive vehicles easier. Though we are your best chance to obtain the Dodge Charger of your dreams, you'll want to be ready to act fast as soon as they arrive on our lot.