2023 Jeep Wrangler Willys 4xe for Sale in Toronto Mississauga and Brampton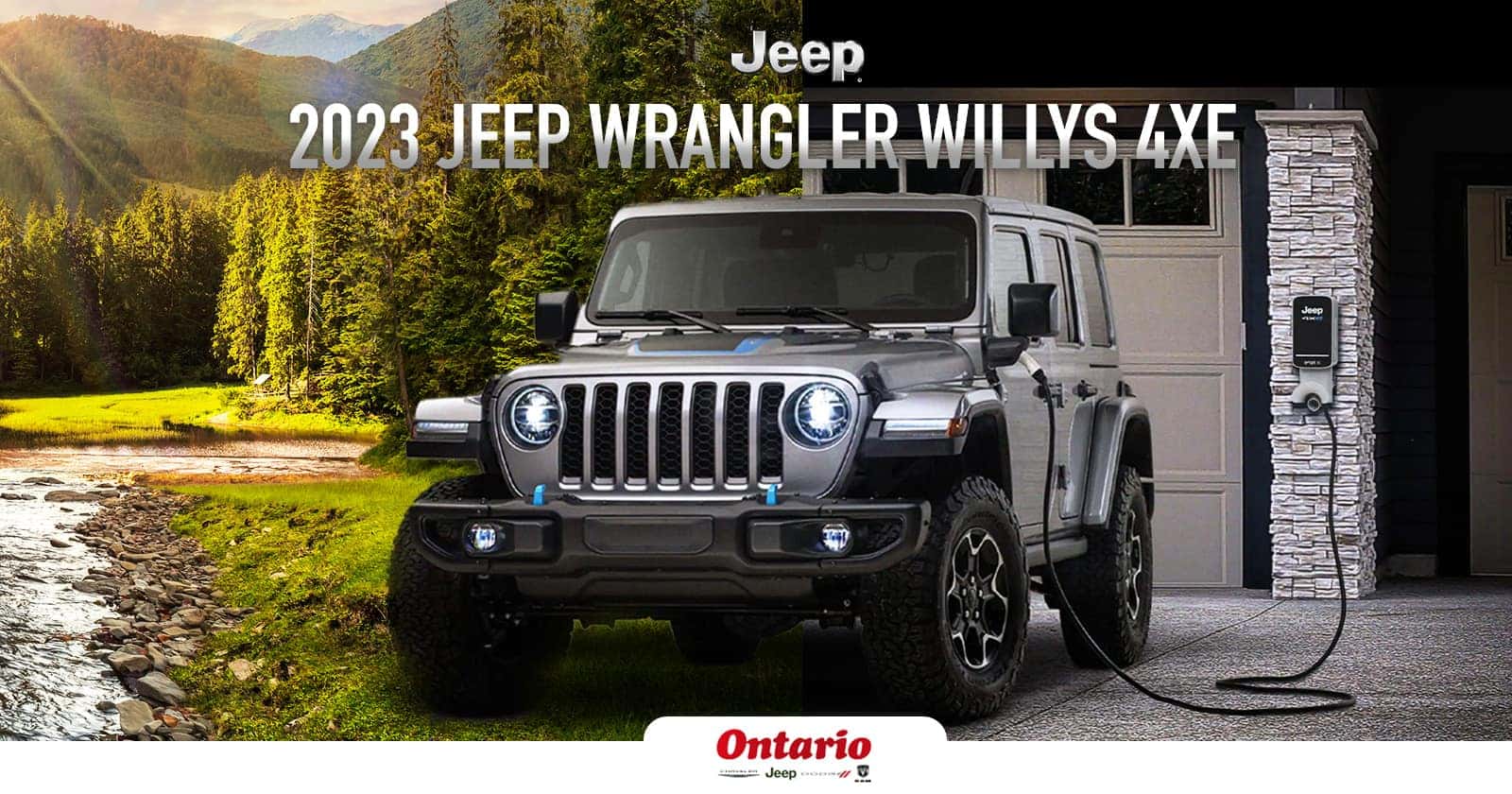 In 2022, the Jeep Wrangler 4xe changed the game for hybrid-electric vehicles with a capable and fun-to-drive SUV that challenged everything you knew about plug-in electric. In 2023, Jeep builds on its commitment to a greener future with even more options available in its hybrid-electric lineup. One of the most exciting new additions making their way to customers in 2023 is the Jeep Wrangler 4xe Willys trim option. An affordable choice that offers all the power and coolness you could ask for, you're going to want to get your hands on one.
At Ontario Chrysler, we love Jeep just as much as you do. We're excited to share the future of Jeep with you and look forward to helping you find your 2023 Jeep Wrangler Willys 4xe within our inventory. As the Jeep dealership Toronto residents depend on, we always have access to the most exclusive and in-demand vehicles. Connect with a member of our team today and find your Jeep Wrangler 4xe Willys for sale with us.
Why You'll Love the Jeep Wrangler Willys 4xe
The Jeep Wrangler 4xe Willys is a great choice for anyone who wants the tough and rugged appearance of a Jeep without worrying about lux options. Affordable, powerful, and fun, the Jeep Wrangler Willys 4xe brings you the best Jeep. Ideal for off-roading, you can look forward to outdoorsy tires, black-out trim, and a tougher vibe for your Jeep when you buy a Jeep Wrangler 4xe Willys. With a trail-rated badge, this hybrid-electric Jeep takes you anywhere and looks seriously cool while doing it.
Features of the Jeep Wrangler Willys 4xe
Go green without ever sacrificing performance. The Jeep Wrangler Willys 4xe is packed with the features and performance specs you'd expect from Jeep. Stand-out features of your Jeep Wrangler Willys 4xe include the following.
375 hp and 470 lb-ft torque
21 miles of all-electric range
Three E Selec Modes to give you control of your driving experience
4xe Blue accents that stand out
Willys hood decal
8.4-inch touchscreen comes standard
How to Finance a Jeep Wrangler Willys 4xe in Mississauga
When looking for a Jeep for sale in Mississauga, Toronto or Brampton, Ontario Chrysler needs to be the dealership you come to first. Beyond having an extensive inventory of the Jeeps, you really want, we also offer convenient financing options. Apply for Jeep Wrangler financing online today to get started, and let us help you get into the Jeep Wrangler 4xe you've been dreaming of.