25 New Electric Dodge, Jeep, Ram and Chrysler Models Coming to Toronto, Mississauga and Brampton by 2030, Find Yours at Ontario Chrysler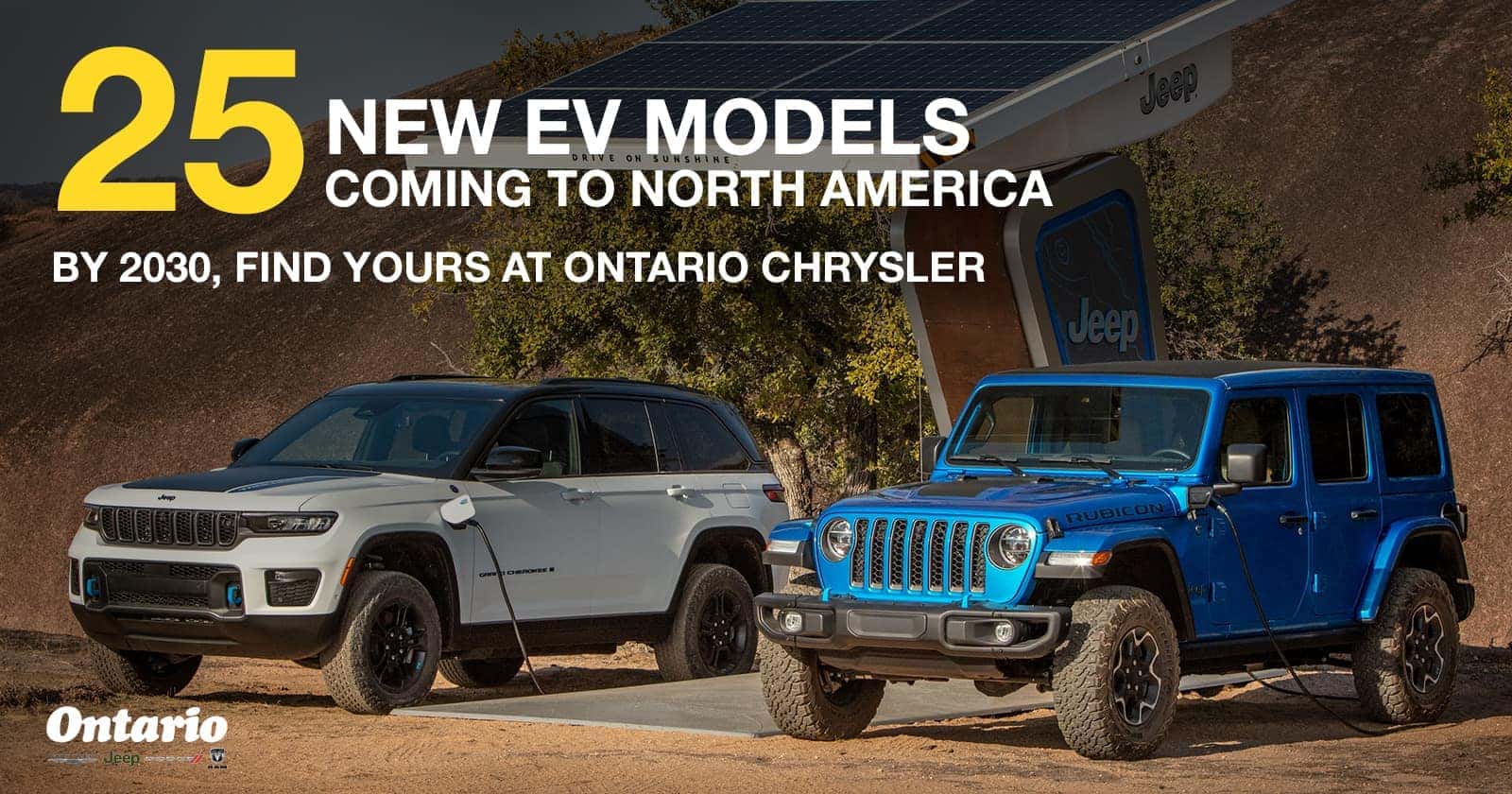 Now more than ever, consumers are looking to find ways to reduce their personal carbon footprint and contribute to a greener future. Though electric vehicles are becoming more common for the average consumer to own, there is still much to be desired when it comes to availability and variety in the electric vehicle market. Stellantis, the corporation behind popular brands Chrysler, Jeep, Ram, and Dodge, are looking to make waves and bring the electric vehicles consumers really want to the North American market, with many new models coming by 2030.
At Ontario Chrysler, we are excited to share news of the incredible, fully electric vehicles that will be making their way to our lot in the not-so-distant future. Stellantis' commitment to a greener, more eco-friendly future is something we are proud of, and we look forward to sharing news and the availability of new vehicles as they are scheduled to arrive. Muscle cars, SUVs and trucks are all going greener, and we can't wait for you to get your hands on the fully electric vehicle that you've been dreaming of.
What Vehicles are Expected to Be Available as Fully Electric?
Stellantis takes its commitment to producing fully electric vehicles seriously and is developing electric vehicles consumers will truly want to buy. With fully a fully electric Jeep, Ram 1500, and Dodge muscle car making their way to the North American market, there's no reason not to make the switch. Fully electric vehicles are set to become the norm sooner rather than later, with brands like Chrysler becoming fully electric by 2022 with exciting options such as the Chrysler Airflow.
What Electric Vehicles are Currently Available?
If you can't wait to get into an electric vehicle, Jeep and Chrysler have solutions to help you go greener today. Look forward to the Jeep Grand Cherokee 4xe coming in 2023. Or move to hybrid-electric options such as the Jeep Wrangler 4xe and Chrysler Pacifica hybrid. Ontario Chrysler is the Jeep and Chrysler dealership you can depend on for the best selection of greener cars.
Hybrid-Electric Vehicle Financing in Toronto
Ready to get behind the wheel of a Jeep Wrangler 4xe? Come to the experts at Ontario Chrysler for the best selection and financing for hybrid-electric vehicles. We look forward to helping you get the green vehicle you've been waiting for at the right fining rate for your needs.