Fast and Furious Dodge Charger Lego Kit | Toronto, Mississauga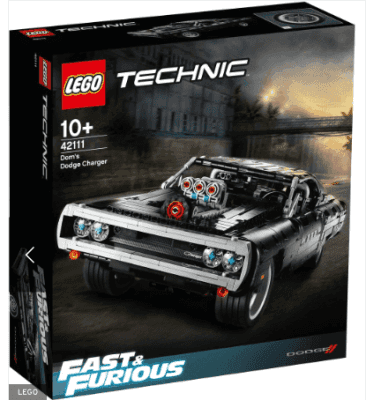 The Fastest and Most Furious Lego Yet
Lego alert, Lego alert, Dodge Ram is about to transport you to your childhood. Back to a time these little plastic blocks were where it was at and you jealously guarded your collection of Hot Wheels kept lovingly in a fishing tackle box. Lego was certainly up to fun and games when they picked the fast and furious Dodge Charger for a maiden voyage into Lego Land and I think it may leave Hot Wheels in its dust!
Lego certainly nailed down the right market not just for these movies but especially for muscle car and car enthusiasts in general. At times like the COVID-19 lockdown when road trips and nonessential travel is highly discouraged, we need a new plan. So what better thing to do for these folks in particular but have a Fast and Furious marathon. Right along with putting together a Lego kit modelled after a replica of Dominic Toretto's badass 1970 Dodge Charger R/T.
This is a Fast and Furious nod to the nonstop multitude of movies in this fast paced series, specifically the newest addition F9 also delayed by the COVID-19 outbreak. So really, thank goodness for Lego! It has been the main fun time focus for my 9 year old this week, though he has been busy building space stations and superhero lairs. However I'm sure this super car kit will hold some interest for boys and girls of all sizes!
The Danish toymaker has created a pretty wicked replica of the 1970 Dodge Charger which is part of their Technic line that features Lego with many moving parts. This kit is a 1:3-scale, 1077-piece Lego Technic set featuring a V-8 engine with moving pieces. For a closer examination there is no better way than to start under the hood.
There you will find a Lego version of the car's 900-hp Hemi V-8 engine complete with working pistons. And wonder of wonders you will find the double wishbone suspension that underpins the Charger R/T. In the trunk there is a set of nitrous canisters that add a little extra oomph for when those pesky Hot Wheels are hot on your tailpipe. There's even a wheelie bar hanging off the rear end so the Charger can be displayed in an almost upright pose after it's built. Cue the admiration ohhhhhh, ahhhhhhhh! Displayed on your coffee table it will make a great centrepiece next to the chips, hot dogs and cans of tuna! For your movie watching convenience the films in order of release are as follows.
The Fast and the Furious (2001)
2 Fast 2 Furious (2003)
The Fast and the Furious: Tokyo Drift (2006)
Fast & Furious (2009)
Fast Five (2011)
Fast & Furious 6 (2013)
Furious 7 (2015)
The Fate of the Furious (2017)
F9(2021)
Untitled tenth movie
There are also the spin off films to watch like the Fast & Furious Presents: Hobbs & Shaw. You can even make a game out of it! The question is can you spot when the black Charger zooms into view over the course of the eight released movies? It happens four times so pay close attention, bragging rights to the winner. It will be making a fifth appearance in the next movie, which is now slated to hit theatres in April of 2021. Oh the anticipation you could build! Thankfully you will not have to wait as long for the Lego Charger kit. Pre-orders opened March 30, 2020 and the Charger kit will be available for sale globally starting April 27, 2020.
Talk about a way to spend some quality time with the kids. How many blocks can you count? How many greys, how many blacks? Let's discuss what a simple machine is! Can you help put this together? It is a very detailed replica! As for entertainment if you are looking for something a little more kid friendly, perhaps as a reward for a some homework, the animated Fast & Furious Spy Racers on Netflix is a good choice. So is getting your kids into car shaped Lego as the fun can continue. The automotive kits also come in the vintage Fiat 500, a Ford Mustang and a Volkswagen to name a few. Let's call it training to build that car engine when they are older.
To get your hands on the Lego Dodge Charger kit just to Lego.com. They have begun taking pre-orders for the set online, or you can wait until April 27 to get it from retail locations globally. However as those trips to the toy store will be few and none between ordering it online is preferable in any case. So my friends hop online today to secure your own Dodge Charger Lego set! While you are spending some quality family time, or quality man cave time cue up a rapid list of movies for your viewing pleasure. If the kids deserve more screen time after their spelling lesson (c-a-r, h-o-n-k, d-r-i-v-e, C-h-a-r-g-e-r) call up Cars 1, Cars 2, Cars 3 or even Planes, they are very clever, family friendly fun. Pop some popcorn, raid the cupboard and tuck in for some hair raising automotive stunts and testosterone-laden story lines. It will give you the sensation of going for one hell of a car ride even while stuck indoors.