How Long Do Jeeps Last?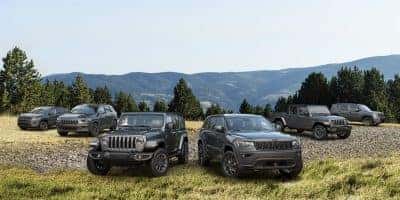 Have you had your eyes on a Jeep but have questions about how long you can expect it to last you? Jeep owners love their Jeeps fiercely and many will hang on to their beloved Jeeps for years and years, sometimes even passing them on to family members. But how long do Jeeps last? Are they really worth the investment?
At Ontario Chrysler, we love everything about Jeeps. From the luxurious Jeep Grand Cherokee to the classic and rugged Jeep Wrangler, there is so much to love about these powerful and exciting vehicles. Whether you choose to use yours for work or play, you can expect incredible performance for years to come when it comes to purchasing any Jeep vehicle. In this article, we will give you some insight into how long Jeeps last and some of the ways you can make the most of yours.
How Long Can My Jeep Really Last?
When it comes to any vehicle, the care you put into it will be reflected in its longevity. Jeeps are known for being rugged and dependable vehicles that can handle any adventure you throw its way. But, that doesn't mean that you can neglect it and expect that it will keep working well for you years to come.
With proper maintenance, you can expect your Jeep to last a long time. Many vehicles last for about 5 years before owners look into replacing them. But with Jeep, you won't necessarily have to. Many Jeep models will still run great beyond 200,000 KM while some, like the Jeep Cherokee, may last you as long as 400,000 KM. Depending on your usage, this can mean that you should expect your Jeep to last ten to fifteen years, or even up to twenty years. That is a phenomenal lifetime for a vehicle!
For details on how your specific Jeep will last, be sure to check out our dedicated info pages on how long a Jeep Cherokee, Wrangler and Renegade will last.
How Many Miles Can a Jeep Renegade Last? (coming soon)
How Can I Keep My Jeep Running Longer? (coming soon)
Below are our three main tips for keeping your Jeep running longer. These tips can be applied to any vehicle and not just Jeeps. Don't forget to check out our maintenance and service guide for an idea of when you should schedule your Jeep service.
Don't Ignore Problems – if you are hearing an odd noise or something doesn't feel right in your vehicle don't ignore it. Sometimes smaller issues can turn into larger ones when left unchecked. Don't make your problems worse by ignoring them, especially if your vehicle is under warranty.
Conduct Regular Maintenance – we know that carving out time to get an oil change can feel like a chore. To keep your Jeep running great, it is simply a must-do task. While you are getting your oil changed don't forget to ensure all fluids are topped up and filters are replaced.
Be Mindful of How Much You Drive – there's no getting around it, more driving means more wear and tear on your vehicle. If it is important to you to keep your Jeep longer, you may want to consider driving a different vehicle for day-to-day commuting to reduce the amount of time it spends on the roads.
Jeeps are fantastic vehicles and you can expect a long life out of your Jeep. We look forward to helping you keep your Jeep running optimally for years to come. Contact a member of our expert Jeep service department and let us keep your Jeep in top-notch space.