How Many Miles Can a Jeep Renegade Last?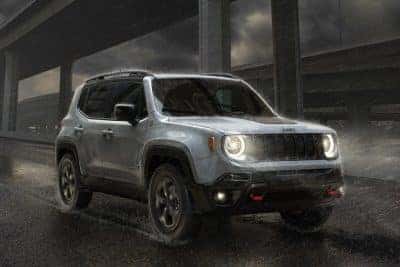 Are you in love with the compact and rugged style of the Jeep Renegade? This sub-compact SUV is designed for fun and adventure and is much loved by its owners. When you are looking for a dependable and long-lasting compact SUV, the Jeep Renegade is a great choice. But how many miles can a Jeep Renegade last?
At Ontario Chrysler, we love everything about Jeep. The Jeep Renegade is a fun, favourite that our customers love just as much as we do. We are here to help you learn everything you need to know before buying this rugged and capable compact SUV. In this article, learn about how long a Jeep renegade can last, its best features and model options. When looking for a Jeep Renegade for sale Toronto residents turn to us.
How Long Can a Jeep Renegade Last?
Jeep Renegades may not have been around for as long as other stellar SUVs from Jeep like the Jeep Cherokee, but that doesn't mean we don't know how dependable and long-lasting they are. Introduced in 2014, Jeep Renegade owners are still driving and loving their Jeep Renegade years, and many miles later. You can expect that your Jeep Renegade can last you between 100,000 to 150,000 miles or around 240,000kms. For many drivers, this falls somewhere between 7-10 years.
Your Jeep Renegade can last you for years to come. To extend the life of your Jeep Renegade, remember to stay on top of your maintenance schedule. See your local Jeep service department and ensure that you obtain regular oil changes and standard maintenance. Never neglect to take care of any mechanical concerns you may have with your Jeep.
What Features Come in a 2021 Jeep Renegade?
The 2021 Jeep Renegade is rugged and ready for anything. You won't miss a minute of the adventure while travelling light in this exciting sub-compact SUV. Some of the top features of the 2021 Jeep renegade include 4×4 capability, ample cargo space, options for a dual-pane panoramic sunroof, towing capacity and top-rated safety features.
What Trims Does the 2021 Jeep Renegade Come In?
There is a 2021 Jeep Renegade for everyone. Choose from any of the exciting trim options and find your perfect Jeep.
Jeep Renegade Sport
Jeep Renegade Jeepster
Jeep Renegade North
Jeep Renegade 80th Anniversary Edition
Jeep Renegade Islander
Jeep Renegade Altitude
Jeep Renegade Trailhawk®
Jeep Renegade Trailhawk Elite
Why Buy a Jeep Renegade from Ontario Chrysler?
At Ontario Chrysler, we are dedicated to helping you get into the Jeep Renegade of your dreams. We can't wait to help you source your next vehicle and are here for you every step of the way. With our extensive selection of Jeeps for sale, we are the Jeep dealership Mississauga residents depend on.
Contact us today and let us help you find exactly what you are looking for. Apply for auto financing online and learn more about the fantastic rates available to you when you purchase a vehicle at Ontario Chrysler.