Jeep Grand Wagoneer vs Wagoneer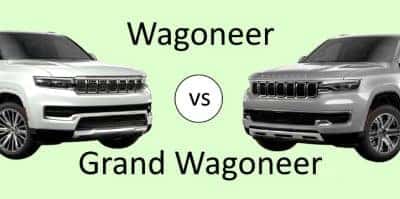 The Jeep Wagoneer and Jeep Grand Wagoneer are two of the most exciting additions to the Jeep lineup coming in 2022. Though they may look similar and have many comparable features, there are some marked differences between the two that you might want to know about. If you are still trying to decide which Jeep is right for you, we are here to help.
At Ontario Chrysler, we are just as excited about the 2022 Jeep Grand Wagoneer and Jeep Wagoneer as you are. To help you decide which one is right for you, we've outlined the basics of what you need to know about these two exceptional vehicles. From the functionality of the Jeep Wagoneer to the luxury of the Jeep Grand Wagoneer, we know there is a perfect Jeep for you.
What Features of the Jeep Grand Wagoneer and Jeep Wagoneer are Comparable?
Both the Jeep Wagoneer and the Jeep Grand Wagoneer have a classic yet rugged appearance that will immediately catch your eye and draw you in. From there, they both share similar features including third-row seating, ample cargo room and desirable tech features. The interiors of both vehicles offer desirable features and neither leave anything to be wished for.
The capabilities of both the Jeep Wagoneer and Jeep Grand Wagoneer are exceptional. Though they offer comparable performance, there are a few differences you may want to keep in mind. The Jeep Wagoneer boasts a 10,000 lb max towing capacity with a 5.7L v8 engine. The Jeep Grand Wagoneer offers an outstanding 9,850 lb towing capacity with a 6.4L V8 engine. You can't go wrong with either option when it comes to capabilities, and both offer best-in-class performance.
Why You Will Love Everything About the Wagoneer
There is nothing less-than about the Jeep Wagoneer and we know you're going to love everything about the performance forward vehicle. Starting at a lower price point, you still get incredible luxury features in your Jeep Wagoneer all while also being practical and suitable for families and those with active lifestyles.
Check out some of our favourite features in the Jeep Wagoneer. We know you are going to love every detail of this exceptional and powerful vehicle.
Premium stereo system with 506-Watt® Audio System

Nappa Leather faced interiors with 12-way power adjustments for the front seats

Uconnect®5 Nav Multimedia Centre with 10.1-Inch Display

Your choice of style and finish of wheels

LED exterior illumination providing you with style and performance
What Makes the Jeep Grand Wagoneer Stand Out?
When it comes to comparing the Jeep Grand Wagoneer to the Jeep Wagoneer, the level of luxury is what truly makes the Grand Wagoneer stand out. The Jeep Grand Wagoneer is exceptional and is something you truly must see for yourself. With premium, luxury features everywhere you look both inside and out, you won't find anything you don't love about the Jeep Grand Wagoneer.
Some of the top luxury features you can look forward to in the 2022 Jeep Grand Wagoneer include the following.
Luxurious, real leather, wood, and metal trim throughout the interior
McIntosh MX1375 Reference Entertainment System
Uconnect® 5 Nav Multimedia Centre with 12-Inch Display
Luxurious detail both inside and out
Wagoneer and Grand Wagoneer Owner Privileges
Whether you choose to purchase a Jeep Wagoneer or Grand Wagoneer, you gain access to exclusive perks and privileges just for owners. Your owner privileges unlock access to dedicated support and other benefits such as the following.
Dedicated roadside assistance, 24/7

Trip interruption coverage

VIP Treatment

Included tire rotations and oil changes

Owner Support line

Exclusive events and VIP access
How to Finance a Jeep Wagoneer or Jeep Grand Wagoneer in Toronto?
When you are ready to get yourself into a new Jeep Wagoneer or Jeep Grand Wagoneer, Ontario Chrysler is your place to be. Both the Wagoneer and Grand Wagoneer are available and in stock now. Call us at 844-736-3607 and ask for Robbie or Scott to book a test drive. Apply for Jeep Wagoneer financing online to get started.