Jeep®, Leading the Way with All-Electric SUVs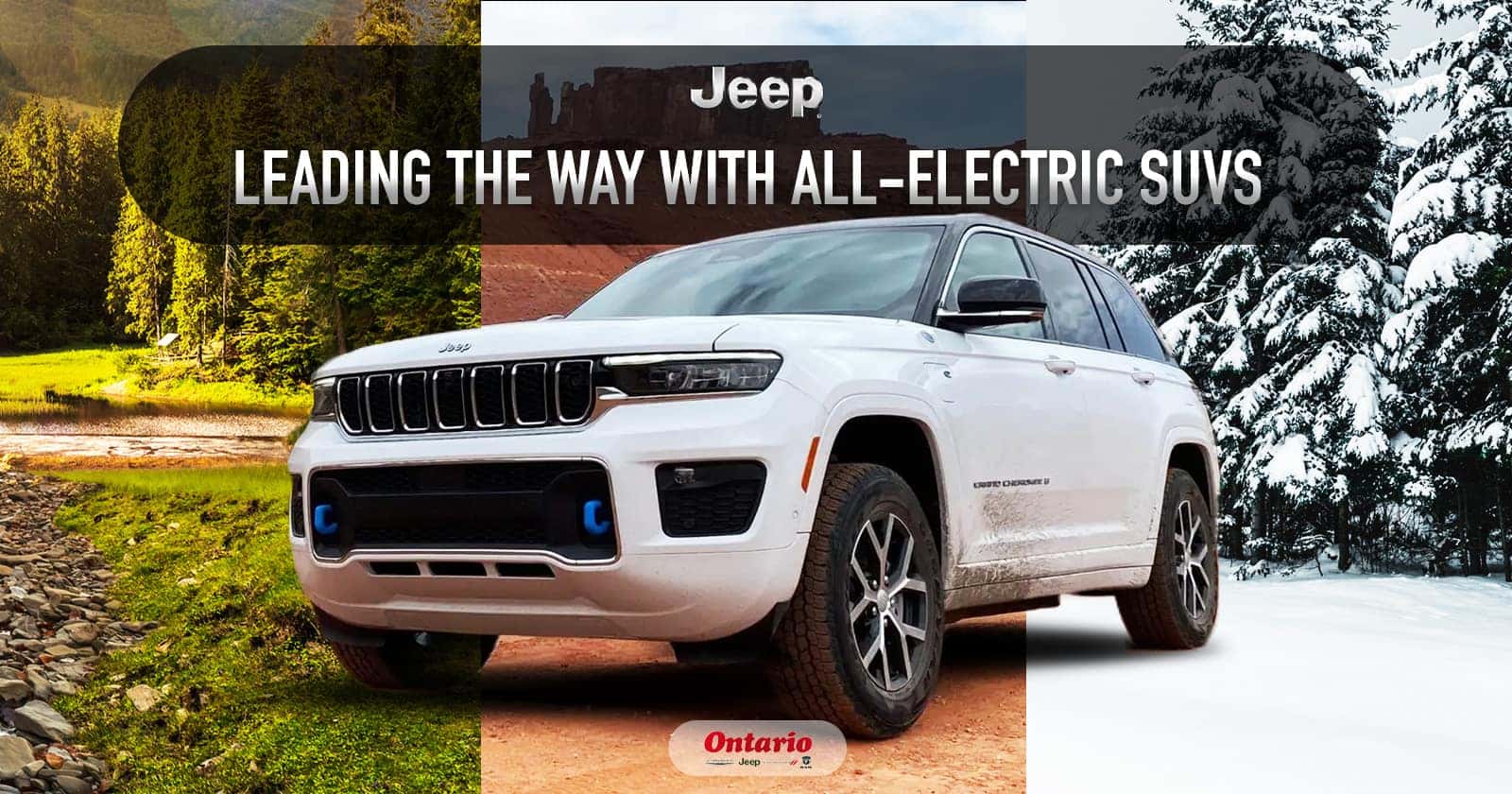 Stellantis, the parent company of much-loved brands Jeep, Ram, Dodge and Chrysler, has made the bold move to commit to eco-conscious vehicles with 25 new electric vehicles coming to the North American market by 2030. Though consumers are interested in making the change to a more eco-friendly drive, a love for the practicality and style of current SUVs can feel like a barrier to making the switch. Stellantis is answering the call for a greener future with its announcement to lead the global SUV electrification, meaning that you can soon have the best of both worlds.
At Ontario Chrysler, we are excited to bring you zero-emission SUVs from the brand you already know and love. Jeep is known for its adventure-ready and performance-forward feel while also adding luxury to the mix. When looking for a hybrid-electric Jeep for sale, Ontario Chrysler has you covered. With Jeep Wrangler 4xe models already available, we are set to have access to the four zero-emission Jeeps making their way to you by 2025. Contact a member of our sales team today to be notified when it's time to purchase yours.
What New Jeep SUVs will be Electric?
By 2025, Jeep is bringing four zero-emission vehicles to the North American market. Though all details have yet to be announced, two exciting options that will be making their way to North America will include a Jeep Wagoneer EV and the highly anticipated Jeep Recon.
Arriving in 2024, the Jeep Recon is a mid-sized SUV that could be comparable to a Jeep Wrangler or Jeep Grand Cherokee. The Jeep Recon will stay true to the brand's off-road and adventure-forward feel with a rugged look. A must-have, the Jeep Recon will be an exciting, welcome addition to the Jeep lineup.
What Electric Jeeps are Currently Available?
Though the 2024 arrival of the Jeep Recon really isn't that far away, there's no need to wait it out if you're hoping to go greener today. With the Jeep Wrangler 4xe and Jeep Grand Cherokee 4xe already available, an eco-friendlier Jeep is waiting for you. These hybrid-electric options are a stellar choice offering power, performance, and luxury in a more eco-conscious package.
How Can I Be the First to Own an Electric Jeep SUV?
There is no doubt that the fully electric SUVs' coming to Ontario Chrysler is sure to be a coveted item. We look forward to helping you source yours and are sure to have your exclusive and sought-after Jeep within our inventory. Contact a member of our sales team or apply for Jeep financing online to get started with the process of owning an eco-conscious Jeep.