New Dodge Durango Hellcat For Sale | Toronto, Mississauga, Brampton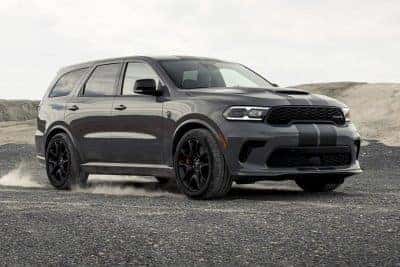 FCA Stellantis only made a limited number of Dodge Durango Hellcat SUVs and they will never make these in the future. This is your opportunity to own one.
The Dodge Durango is an SUV driver's favourite with its tough-looking exterior and sporty feel. Celebrating 10 years on the roads in 2021, Dodge has some special updates in store for this upcoming model year. Most exciting of all is the exclusive new 2022 Dodge Durango SRT Hellcat.
If you like a rugged and tough look in your SUV, you won't be disappointed by the changes to the new Dodge Durango. It keeps all the style you love while bringing you some exciting new features for 2022. See below for the highlights of the Dodge Durango redesign and see which model aligns with your wants.
Don't miss out on this exciting new redesign. Get in touch with Dave Pozzobon, our VP of sales, at 905-625-8801 to order yours. Let's get you roaring in the new Dodge Durango SRT Hellcat.
What's Included in the Redesign?
On the inside, bigger is better in the Dodge Durango redesign. All models are getting a boost to the touch screen with the SXT and GT getting an 8.4-inch screen while R/T, Citadel and SRT models gain a 10.1-inch screen. You'll also enjoy a more spacious and driver-oriented feel to the interior of all models. It comes in 5 or 7 seater / passengers. 
Citadel, R/T and SRT models will have an incredible towing capacity of 8,700 pounds. You'll also get some sleek exterior changes such as slimmer LED headlights, new grille textures and new spoiler options too.
What Models Are Available?
You won't be short on options with the new Dodge Durango lineup. With 6 desirable options to choose from, there is an ideal model for your needs that will also hit all the wants. Choose from the SXT, GT, Citadel, R/T, SRT 392 and most excitingly the SRT Hellcat.
What Will It Cost?
The cost of the Dodge Durango varies year over year that's why it's better to call us to get the price details. 
When Can I Purchase One?
You can order one today by calling or texting our VP, Dave Pozzobon, at 905-625-8801
If you're itching to get your hands on the new Dodge Durango SRT Hellcat, the wait won't be too much longer. Though the official release date has not yet been released, you should expect to be able to purchase one in the fall of 2020. Keep an eye on our new Dodge Durango inventory for when they come in stock.
Stay up to date on all things Dodge Durango by getting in touch with a member of our team at Ontario Chrysler. We will keep you in the loop and get you driving your new Dodge Durango on the streets of Mississauga and Toronto.
Start here by appraising your vehicle.