New Ram 2500 Heavy Duty | Toronto, Mississauga, Brampton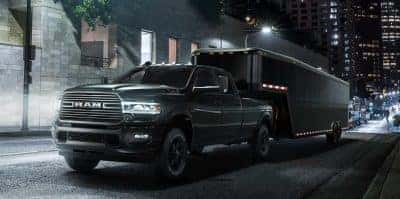 In 2020 the Ram Heavy Duty was named Truck of The Year®. Being the most powerful truck on the roads, there was no doubt that a return of this model of Ram was sure to be highly anticipated in 2022. With unbeatable towing capacity and an all-over heavy-duty performance, this truck is ideal for those who need a truck that really works for them.
Ontario Chrysler is excited to announce the return of the most powerful pickup ever, the new Ram Heavy Duty. This truck is made to work for you and can handle anything you throw its way. From construction to farming this truck is ideal for anyone who has high performance and towing needs. Choose Ontario Chrysler as your first choice for purchasing a new Ram truck. Let us help you find the Ram Heavy Duty of your dreams and get behind the wheel of the most powerful pickup ever.
What's New in 2022?
The new Ram Heavy Duty brings new additions in technology to make your powerful truck a more tech-forward one too. Already well equipped in the 2021 model, the 2022 Ram Heavy Duty features the addition of a digital rear-view mirror and additional advanced technology availability. Contact us today to build your perfect new Ram Heavy Duty.
How Much Towing Capacity Does It Have?
The Ram Heavy Duty is made to be stronger and work harder than any other pickup. It has an impressive towing capacity reaching 37,100-lb. You will not be able to beat this level of performance in a pickup. If you have heavy towing needs, the new Ram 2500 Heavy Duty is the truck for you. Get yourself into one by contacting Ontario Chrysler today.
Beyond towing capacity, the Ram Heavy Duty also boasts 1,075 lb.-ft of torque, a Payload of 7,680 lbs and the best ride and handling available. If you need space inside your truck and powerful performance, this is the one for you.
When Can I Get a New Ram Heavy Duty?
If you cannot wait to get your hands on a new Ram Heavy Duty, you won't have to wait for long! You can expect to see the truck of your dreams at Ontario Chrysler this month. Be one of the first to own this powerful pickup and take advantage of the new technology additions. To get yourself into a new Ram Heavy Duty, contact our expert sales team at Ontario Chrysler. We are here to help you get everything you need in a pickup.