Ram vs. Ford Trucks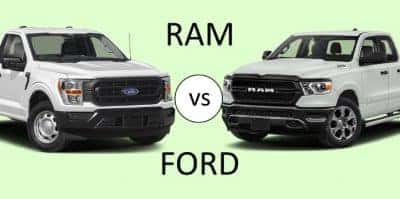 If you are in the market for a new truck, you may be wondering whether you should purchase a Ram 1500 or a Ford F150. Though both trucks are dependable and rugged, we believe that the Ram 1500 is the superior truck. These trucks share many comparable features, but a few factors make Ram Trucks the standout choice.
There's a reason why Ram lovers keep coming back and stay loyal to the brand time and time again. At Ontario Chrysler, we love all things Ram and know you will too. See our comparison of Ram vs Ford trucks comparison below or come see and feel for yourself why Ram makes the superior truck.
Which Truck Performs Better?
Whether you are looking for a basic work truck that gets the job done or want a premium truck with exceptional performance, Ram takes the lead. Though the base model of the Ford F150 offers a respectable 3.3L V6 engine with 290 horsepower and 265 pound-feet of torque, the comparable Ram 1500 model offers more with its 3.6L V6 engine with 305 horsepower and 269 pound-feet of torque.
As you move through the models to more premium trucks with larger and more powerful engines, Ram still beats the competition with its v8 5.7 L Hemi engine that boasts 395 horsepower and 410 pound-feet of torque. The Ford F150 is still a great truck with fantastic capabilities though it cannot quite keep up to Ram when it comes to performance.
Which Truck Can Tow More?
The Ram 1500 and Ford F150 are quite comparable when it comes to towing and hauling. When it comes to towing, the Ford F150 takes the slight edge with capabilities of towing 7600 lbs compared to the Ram 1500s' 7320 lbs. When it comes to hauling, the Ram 1500 cannot be beaten with 1900 lbs where the Ford F150 is capable of hauling 1820 lbs.
Which Truck Has Better Model Options?
Both Ford and Ram offer a variety of model options to suit any taste and performance need. If you are stuck on which option is right for you, consider that Ram has some of the best interior tech and exterior styling available. Some of the most popular model options for the Ram 1500 include the following.
TRX
Limited
Sport
Big Horn
Tradesman
Which Truck Has a Better Price?
When it comes to choosing a truck, price matters but you'll also want to consider value too. With its winning performance and exceptional features, the Ram 1500 is well worth the slightly higher price when compared to the Ford F150. The Ram 1500 Tradesman starts at $41,165 where the Ford F150 XLT starts at $38.685.
We know that once you get yourself behind the wheel of a Ram 1500 you'll understand why it is such a well-loved and respected truck. Contact the experts at Ontario Chrysler today. When looking for a Ram 1500 for sale Toronto residents trust us.