What Can I Fit in a Truck or Jeep SUV?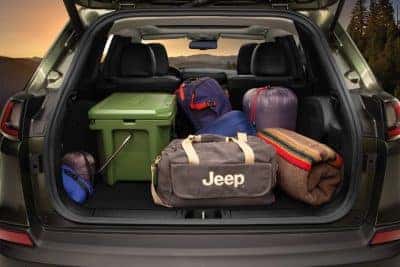 When you are considering the purchase of a new truck, SUV or even minivan, one of the top concerns you may have is what will fit inside of it. It's one thing to hear the details about the capacity of a vehicle and quite another to load it up and see what it can do. Whether you are loading up luggage for a family vacation or regularly find yourself needing to bring work supplies like a ladder with you, you truly need to know what can fit in a truck or SUV.
At Ontario Chrysler, we understand that choosing your next vehicle is a major decision. It is not always easy to get a feel for what the vehicle you are looking at can hold when you take it for a test drive. To make your life easier and give you a sense of what your desired vehicle can do we've tested the capacity of some of our most popular New Jeep trucks and SUVs'. Check out our summaries below for your best understanding of what you can take with you in your new Jeep.
What Fits in a Jeep Compass?

The Jeep Compass is a compact SUV that still holds a surprising amount of gear. In our what fits in a Jeep Compass video, we were able to fit an extensive amount of gear into the back of the SUV with its seats down. You can expect a bit less cargo room with the seats up, but we were able to fit a folding table, ladder, desk chair, snowboard, folding chairs, suitcase, booster seat and more into the back showing that the Jeep Compass is small but mighty.
What Fits in a Jeep Grand Cherokee?

The Jeep Grand Cherokee is the perfect vehicle for families and professionals. It holds a lot and our test items fit easily inside the vehicle while still having lots of room leftover. The seats were folded down in this video but there was plenty of room to spare meaning you could fit much more into this vehicle. See our what fits in a Jeep Grand Cherokee video for a visualization of how roomy this truck is.
What Fits in a Jeep Wrangler?

The Jeep Wrangler is made for adventure and whether you like to pack light or bring it all there's room for everything inside. In our what fits in a Jeep Wrangler test video, we were able to pack up everything into our Wrangler with room to spare for even more gear. The bonus of the Jeep Wrangler is that it offers additional clearance for taller items that you may want to bring with you.
What Fits in a Jeep Cherokee?

The Jeep Cherokee is the perfect vehicle for anyone who loves adventure. Our what fits in a Jeep Cherokee test video shows you exactly why this SUV won't let you down. Though this is a smaller SUV it still holds all of the gear we packed into including a full-size folding table, desk chair and more. The smaller size makes the Jeep Cherokee perfect for anyone who wants an SUV for daily driving but still demands that their vehicle keeps up with any adventure.
Our capacity testing videos offer you a great perspective into how much your next Jeep can hold. If you need to know if a particular item will fit in your next Jeep, contact us. We would be pleased to answer any questions you may have about the capacity of Jeep vehicles. Ontario Chrysler is the Jeep dealership Toronto and Mississauga residents depend on.